Incredible aesthetic appeal thanks to a sophisticated design

Sumptuous and spacious interior cabin

Huge amount of class-leading boot capacity for families

Brimming with extra technology as standard - such as air con

Bluetooth and DAB digital radio included at entry-level

Capable of up to 76.3 mpg combined, with CO2 of only 98 g/km
Tipo Latest Offers
All New Fiat Tipo
Discover an incredible family hatchback. The award-winning Fiat Tipo comes with plenty of features to brag about, from it's extensive in-cabin legroom, to its class-leading 440-litre boot. One of the most generous hatchback's around, the Tipo comes with a wealth of amazing equipment, including base-spec "Easy" trim offers that include leather multi-function steering wheels, DAB digital radio, Bluetooth and air conditioning. Higher level trims feature extra additions such as LED daytime running lights, cruise control, rear parking sensors, and a 5-inch touchscreen. If that wasn't enough the Tipo is super cost-effective, thanks to its incredible engine choices. For instance, the 1.6 litre Multijet diesel engine provides up to 76.3 mpg with CO2 emissions of 98 g/km.
Tipo Features
Slim and Stylish
A family hatchback that maintains a compact air, the Fiat Tipo has a unique sense of style that's bound to capture attention. From its aggressive front grille to its sleek side profile, the Tipo has a pleasant surprise to offer at each glance.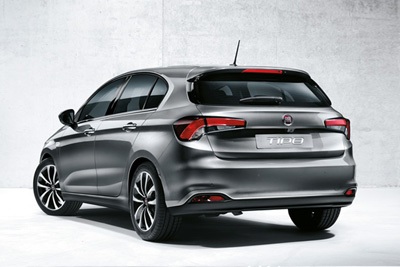 Class-Leading Boot
Need extra space for your family's cargo? The Fiat Tipo has the biggest boot space in its class, with 440 litres that expand to 550 litres in the estate trim. The capacity beats competitors in the hatchback sector by around 100 litres.
Practicality Throughout
If great boot space wasn't enough, the Fiat Tipo also features twelve additional litres of storage in the cabin, thanks to generous rear and front door bins, a spacious glovebox, and a deep armrest bin for extra cargo.
Sumptuous Interior
From incredible amounts of legroom and headroom, to ergonomic relaxing seating for both the driver, and passengers, the Fiat Tipo is brimming with comfort solutions throughout the cabin. Perfect for family life.
Interior
More Features
Designed for You
Though everyone will love the Tipo experience, this hatchback is specially designed to offer an incredible drive, with well-spaced pedals, a multi-adjustable driver's seat with optional lumbar support, and a straight driving position.
Extra Refinements
No matter which trim you choose, the Fiat Tipo offers plenty of refinement, including minimised wind and engine noise even on the motorway. This is particularly evident on long drives - which is perfect for last minute road trips.
Plenty of Tech
You'll be spoilt for features with the Fiat Tipo, from Bluetooth, air conditioning, and a multi-function steering wheel as standard, to the additional features provided on mid-spec models, like LED daytime running lights and more.
Minimal Running Costs
The Fiat Tipo provides an incredible drive for a low price. The powerful 1.6 Multijet diesel engine offers up to 76.3 mpg with CO2 emissions of 98 g/km, while the 1.4 T-Jet Petrol engine delivers around 47.1 mpg combined.
Tipo Colours
Ambient White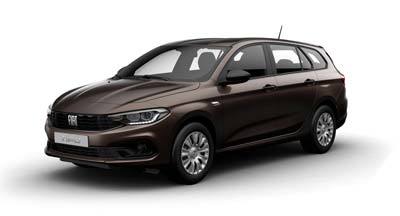 Magnetic Bronze
Minimal Grey
Electroclash Grey
Tango Red
Elba Blue
Volcano Black
Sand Pearl
For the trim levels, colours and more detailed info, download or order the Tipo brochure
Get a Brochure
Why not take a test drive in the Tipo? It is the best way to know if the car is for you.
Book a Test Drive
If you need to know more info about the Tipo - Just ask, we are here to help.
Ask a Question
View all of our Tipo offers by clicking the link below.
Latest Offers

" The Fiat Tipo offers loads of space, a good amount of equipment and a comfortable driving experience for not a lot of money. "
AutoExpress

"If you're after a small family hatchback that's strong on value, practicality and standard equipment, then the Fiat Tipo could well be for you."
Car Buyer

" Affordable, practical and surprisingly well-made, the Fiat Tipo is a sensible family car - similar in size to a Ford Focus. "
Honest John
New Fiat Tipo
Call us Today
01934 813700
Contact us