Charming compact car for everyday versatility

A bold retro design - bound to get you noticed on the city streets

Created for efficient and simple road presence

Economically efficient, frugal, yet surprisingly strong engine power

Capable of up to 71MPG, with low CO2 emissions

Complete interior comfort, including modern technology
500 Latest Offers
Fiat 500
The perfect example of Italian charm and compact versatility, the Fiat 500 was made for urban living - ideal for navigating tight parking spots, twisting roads, and complex manoeuvres. Both fun, and functional at the same time, the Fiat 500 delivers contemporary practicality and comfort to the modern car market, with stylish rear light clusters, a conveniently re-designed dashboard and plenty of great everyday appeal. If the stylish appeal wasn't enough to catch your eye, the interior tech will be sure to grab attention, from smartphone connectivity features to the latest in safety aspects designed to offer protection and entertainment at all times. What's more, each responsive engine offers a fantastic performance, without compromising fuel efficiency or economy. This is a Fiat that really does have everything to offer.
500 Features
500S
Perfect for those with sporting sophistication, the Fiat 500S offers a range of fantastic features, from cool air conditioning to 500S sports seats. On the exterior, you'll get a full-body kit design including exhaust and bumper features, a rear spoiler, and 15" graphite alloy wheels. Inside, you'll experience a 7" touch-screen system, and rear-parking sensors.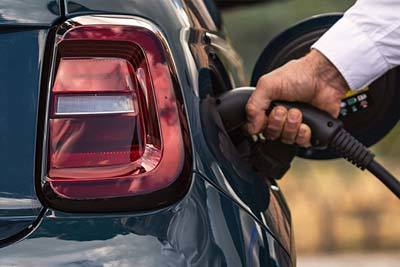 Sumptuous Interior Style
The seats in the latest 500 were created with a consideration of true comfort and sophistication - using ergonomic tech and soft supple materials to offer complete relaxation for drivers and passengers alike.
High-Tech Convenience
From the new and improved USB ports to the roomy glove compartments included for utmost functionality, the Fiat 500 is brimming with convenience and practicality, which makes this car more than just a pretty face.
500 Riva
The Fiat 500 Riva adds a touch of class and elegance to everyday motoring. You will love the feeling of the wind in your hair with the soft-top roof, and the Riva's rich and stylish cabin, with mahogany fascias, leather seat trims and slick chrome detailing, all come as standard.
Interior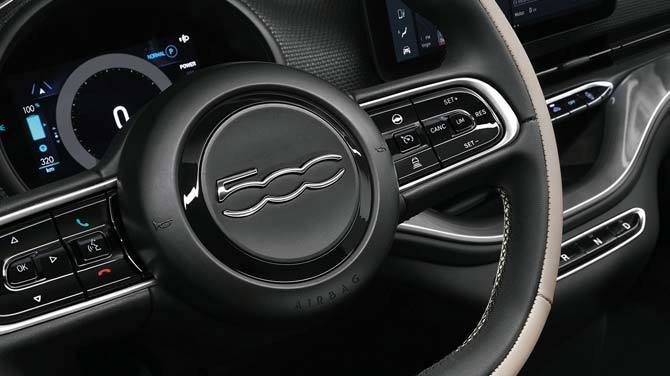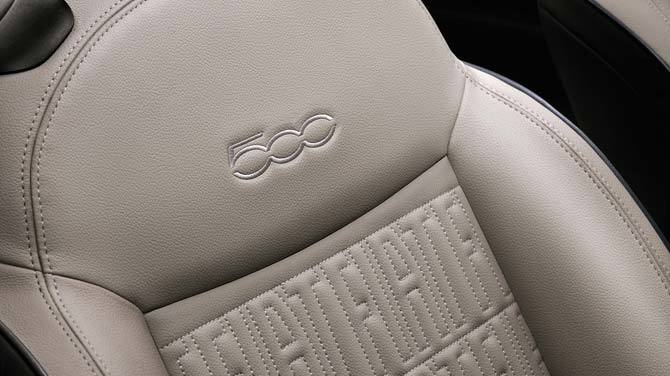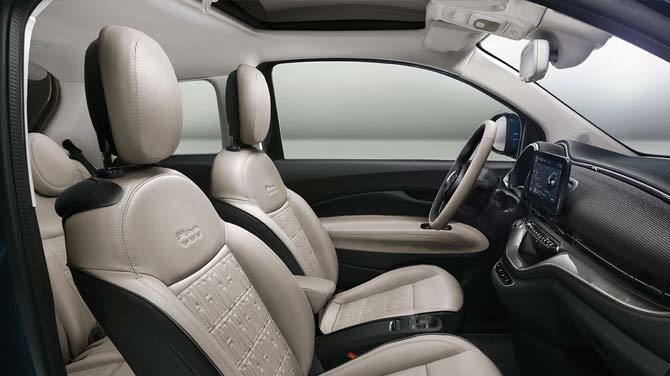 More Features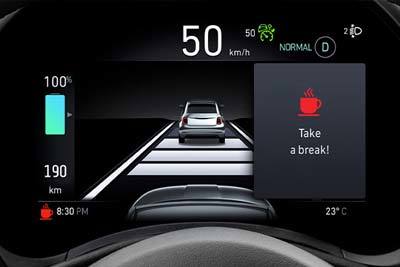 Interior Infotainment
The Fiat 500'S touchscreen equipped with Uconnect technology gives the modern driver more freedom to manage multi-media devices and smartphones with the greatest of ease, for hands-free driving excellence.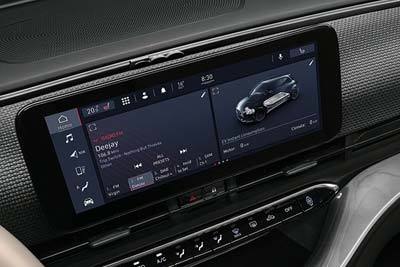 Top Quality Technology
The Eco Tech Solution By Fiat Is The Latest In Personal Driving Assistance, Offering Solutions To Help You Save Fuel, Cut Down On CO2 Emissions, And Maximize Your Performance On The Road In Real-time.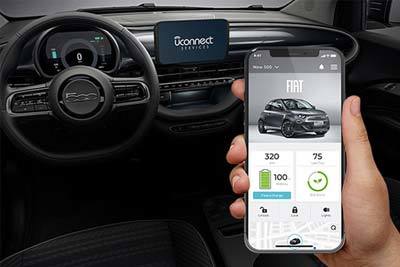 Incredible Safety Features
In case of emergencies, the latest Fiat 500 offers ABS with EBD for ultimate assistance, giving you control and stability, while the Hazard Device system immediately switches on emergency lights for road warning.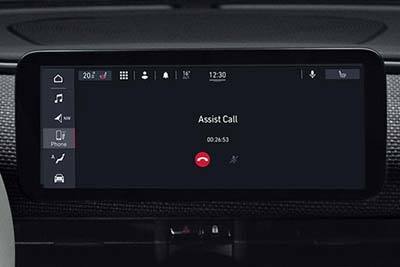 Top of the Range Performance
The Fiat 1.3 MultiJet engine can offer returns of up to 83.1MPG combined, as well as amazing CO2 emissions of only 89 g/km. That gives you tons of wiggle room to get wherever you're going, without sacrificing efficiency.
500 Colours
passadoble Red
Black & Red
Bossa Nova White
Countrypolitan Yellow
Volare Blue
Tech House Grey
Black & Yellow
Groove Metal Grey
Avantgarde Bordeaux
Epic Blue
Electroclash Grey
Crossover Black
Urban White
Smooth Mint
Glam Coral
For the trim levels, colours and more detailed info, download or order the 500 brochure
Get a Brochure
Why not take a test drive in the 500? It is the best way to know if the car is for you.
Book a Test Drive
If you need to know more info about the 500 - Just ask, we are here to help.
Ask a Question
View all of our 500 offers by clicking the link below.
Latest Offers

The Fiat 500 is a retro-styled city car with good looks and a host of personalisation options that's easy to recommend
Carbuyer

The retro-inspired Fiat 500 looks great, handles well and is nimble in town - and it's pretty cheap to run as well
Auto Express

The 500 is more stylish and competent enough in most areas
What Car?
New Fiat 500
Call us Today
01934 813700
Contact us