17" Gran Turismo alloys

0-62mph in 7.3 seconds

165hp engine

Black leather seats

Apple CarPlay & Android Auto

Garret GT 1446 turbo
595 Turismo Latest Offers
abarth 595 turismo
The Abarth 595 Turismo has several awesome upgrades over the 595, including a more powerful 165hp engine with a Garret GT 1446 turbo, black leather seats, 17" Gran Turismo alloy wheels, a matte grey interior, chromed exhaust pipes and automatic climate control. It delivers an incredible drive, accelerating from 0-62mph in 7.3 seconds. You can also specify a manual or robotised sequential gearbox with flappy paddles.

Like all 595's, the Turismo is setup to handle. The front and rear shocks have FSD (Frequency Selective Damping) technology that adjusts the ride to the road and the rear shocks are made by performance company KONI. The Garret GT 1446 turbo delivers strong boost from 3,000rpm and the 595 Turismo loves to rev. As standard, this model has rain and dusk sensors, rear parking sensors and Apple CarPlay & Android Auto.
595 Turismo Features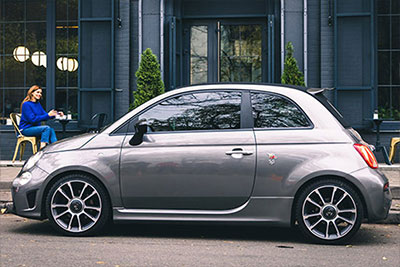 165hp engine
The 595 Turismo's 1.4 T-JET engine kicks out 165hp and 230Nm of torque from 3,000rpm, delivering responsive performance in every gear. The 0-62mph time of 7.3 seconds (7.4 seconds in the automatic) is seriously quick.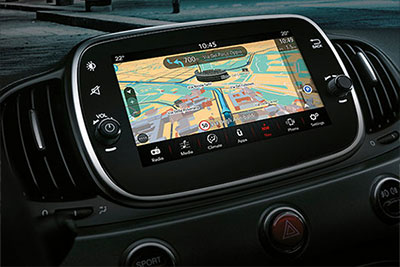 Abarth exhaust
The 595 Turismo's dual-tip exhaust produces raucous sound, with a muscular growl and bark under acceleration. It's tuned to settle down in higher gears so you can cruise around without getting a headache.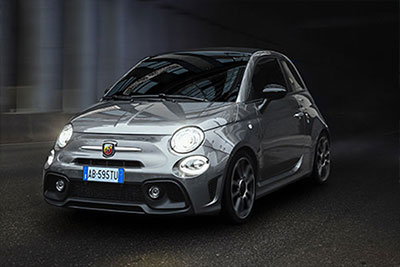 17" alloys
The 595 Turismo stands out from the base model with upgraded 17" Gran Turismo alloy wheels (exclusive to this model). Not only do they look great, but they are 7% lighter than the 16" alloys on the standard 595.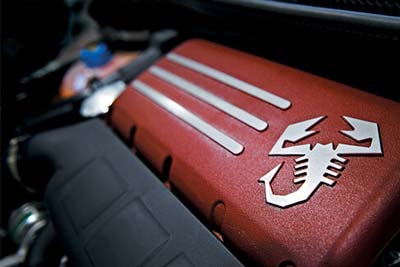 Leather sports seats
The 595 Turismo keeps you glued into your seat with high-bolstered, diamond-quilted leather sports seats in black. Optionally at extra cost, you can specify tobacco leather upholstery or heritage brown upholstery.
Interior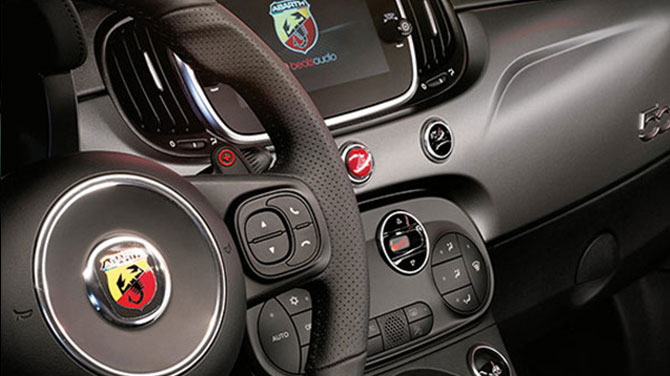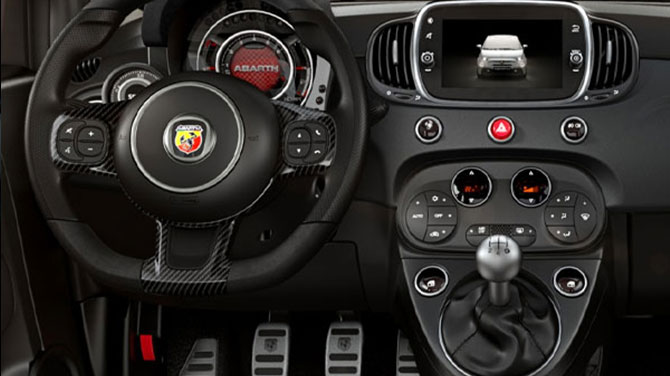 More Features
Manual or automatic
The 595 Turismo comes with a crisp, short-throw five-speed manual gearbox, or you can specify the robotised sequential gearbox, an automatic gearbox with flappy paddles for easy, rapid gear shifts.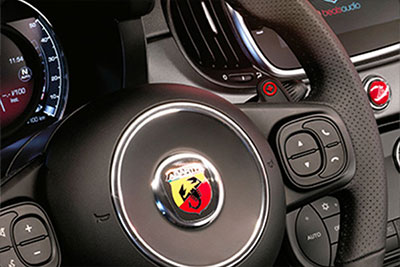 Uconnect 7" HD system
The Uconnect 7" HD touchscreen system comes as standard with Apple CarPlay, Android Auto and Bluetooth for seamless connectivity. Optionally, you can specify the same system with in-built navigation.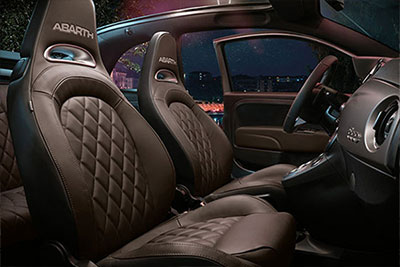 Rear parking sensors
The 595 Turismo makes parking and reverse manoeuvres safer with standard-fit rear parking sensors which activate automatically. You can also adjust the sensor tone in the settings menu using the touchscreen.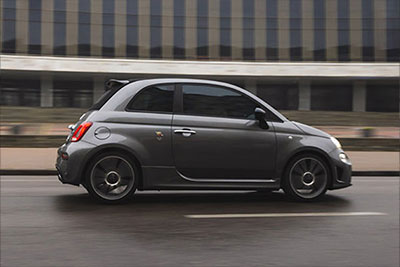 Electric sunroof
You can specify your Abarth 595 Turismo with an electric sunroof that opens and closes at the press of a button. The sunroof costs £650 and is well worth it if you like your cockpit to be light and airy.
595 Turismo Colours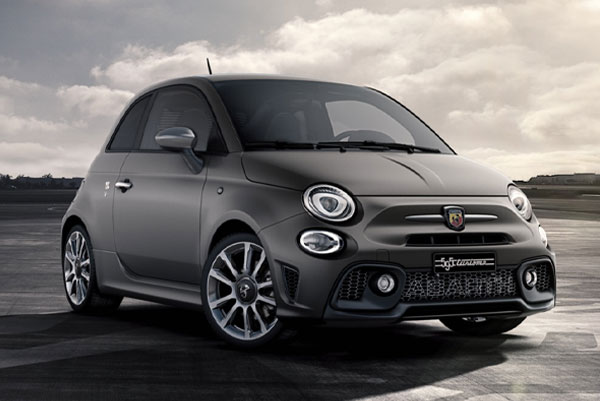 Asphalt Grey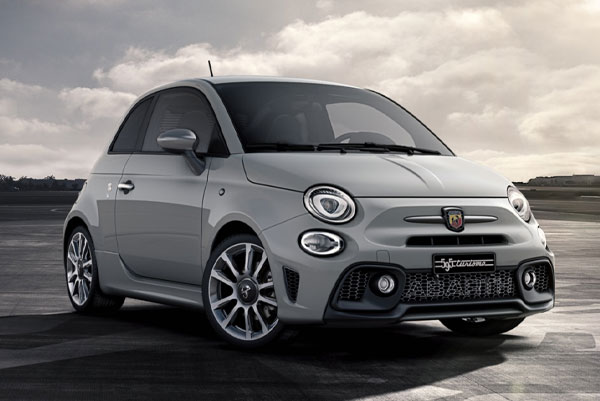 Campvolo Grey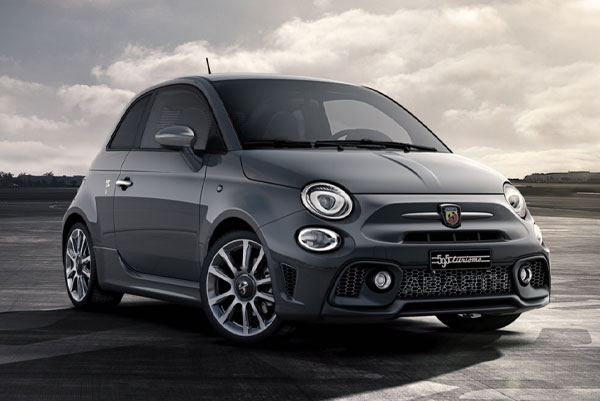 Circuit Grey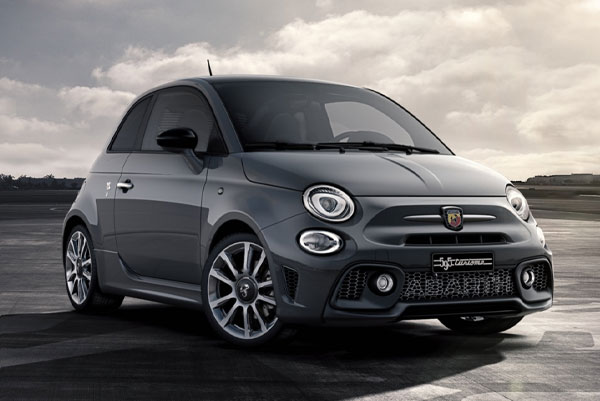 GARA WHITE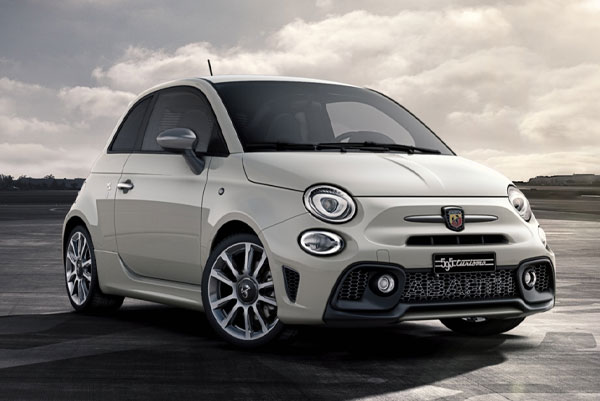 Gara White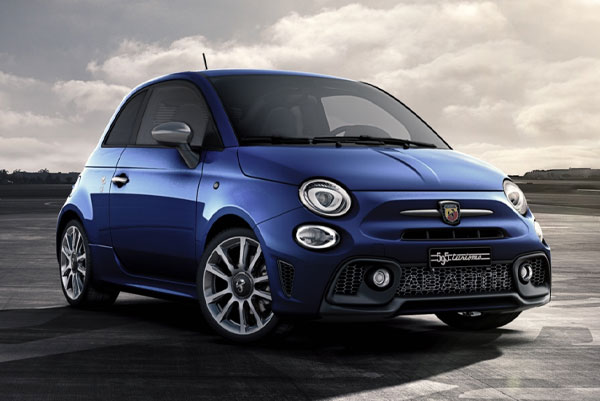 Podium Blue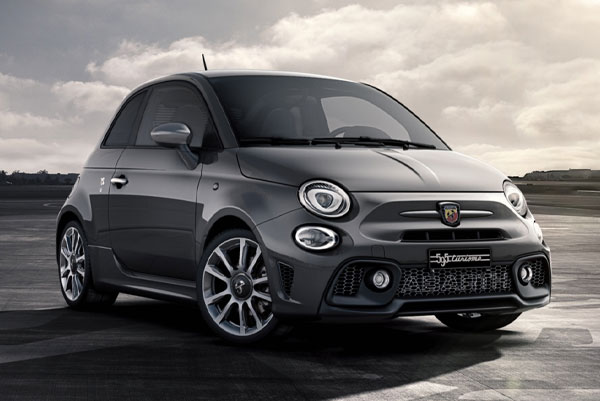 RECORD GREY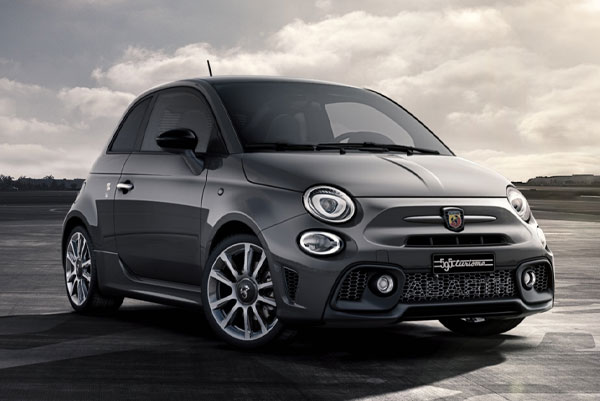 Record Grey with Black Roof
Scorpione Black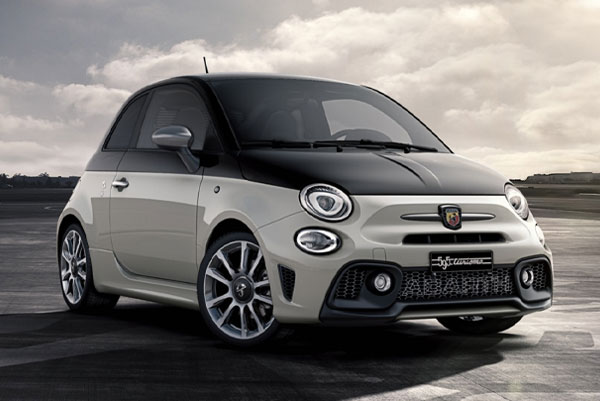 Scorpione Black Slash Gara White
For the trim levels, colours and more detailed info, download or order the 595 Turismo brochure
Get a Brochure
Why not take a test drive in the 595 Turismo? It is the best way to know if the car is for you.
Book a Test Drive
If you need to know more info about the 595 Turismo - Just ask, we are here to help.
Ask a Question
View all of our 595 Turismo offers by clicking the link below.
Latest Offers
abarth 595 turismo
Call us Today
01934 813700
Contact us