The fastest Abarth 595

180bhp and 250Nm of torque

0-62 mph in 6.7 seconds

Unique "Record Monza" quad-tip exhaust

Unique leather and Alcantara steering wheel

Limited-slip differential with Performance Pack.
595 Competizione Latest Offers
abarth 595 competizione
If you love the Scorpion badge and its heritage, and you want in on the fun that the Abarth 595 offers, choose the 595 Competizione for next level performance. The Abarth 595 Competizione has 180bhp and 250Nm of torque (up from 165bhp and 230Nm of torque in the 595 Turismo), and features a unique dual-mode "Record Monza" quad-tip exhaust system, fixed 4-piston brake callipers by Brembo and lightweight diamond-cut 17" alloys. It pushes performance to the absolute limit, with a new mechanical limited-slip differential lifted from the 696 Biposto and dampers by Koni. 0-62mph is dealt with in just 6.7 seconds and the 595 Competizione loves to be driven hard. It offers the perfect blend of power, handling prowess and good looks, with the Competizione getting new, sculpted bumpers and a variety of fresh two-tone paint schemes including the stunning Pista Grey/Abarth Red.
595 Competizione Features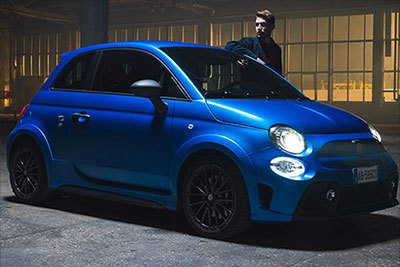 A fresh design
The Abarth 595 Competizione has been updated with new front and rear ends, new lights, bigger air intakes and a new diffuser. The Competizione looks incredible as a result, with a sporty design that's 100% Abarth.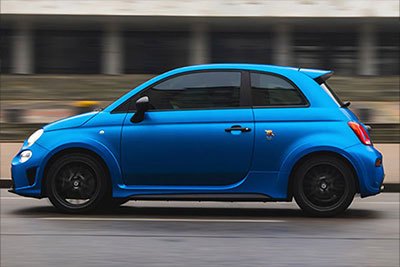 The fastest 595
With 180bhp and 250Nm of torque, this is the most powerful production Abarth 595 available. It'll get from 0-62mph in 6.7 seconds, and the 1.4 T-JET engine offers very strong in-gear acceleration for pure driving joy.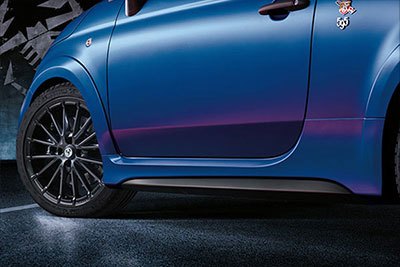 "Record Monza" exhaust
The 595 Competizione has an upgraded exhaust system over the Turismo model. The "Record Monza" quad-tip exhaust sounds brutal, with crackles and pops on the overrun and lift off.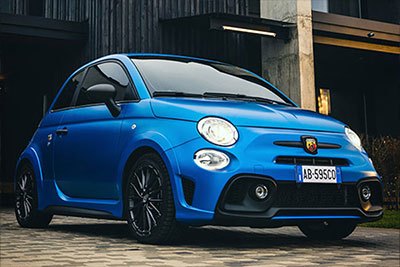 Dampers by Koni
The Abarth 595 Competizione has Koni FSD shock absorbers at the front and rear. This system is adaptive, so it changes according to the road, to improve your driving pleasure and in turn, stability and safety.
Interior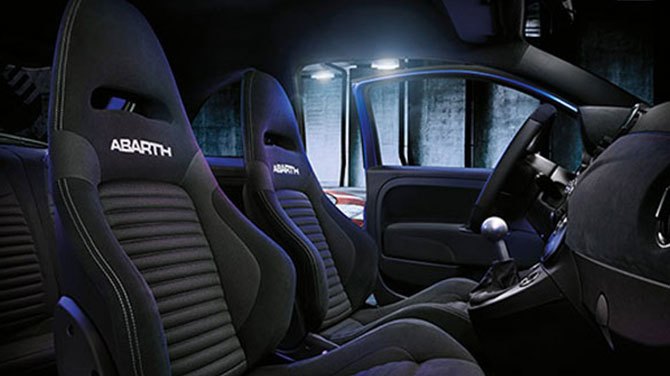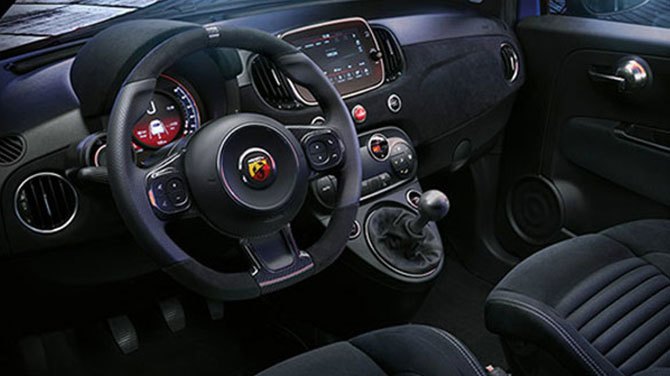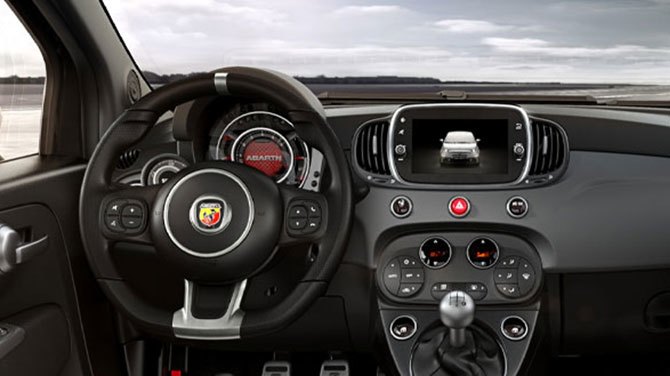 More Features
Mechanical limited-slip diff
The Abarth 595 Competizione is available with a mechanical limited-slip differential. Simply select the 'Performance Pack'. It's a worthwhile upgrade, because it helps put all the 595's power onto the road.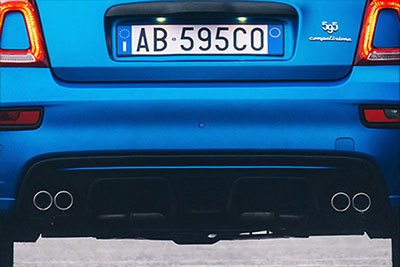 Seats by Sabelt
The Competizione gets a unique set of sports front seats with the Performance Pack. Designed by Sabelt with Abarth, these bucket seats hug you like no others and provide substantial support for the road and the track.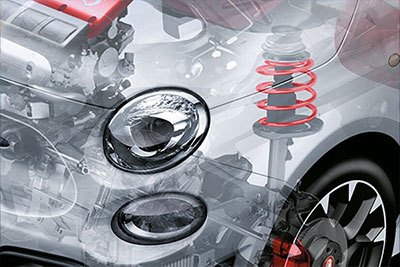 Colourways
The 595 Competizione is available in 3 solid colours; Modena Yellow, Abarth Red, and Iridato White, or 3 unique two-tone colourways; Scorpione Black/Podio Blue, Scorpione Black/Record Grey, and Pista Grey/Abarth Red.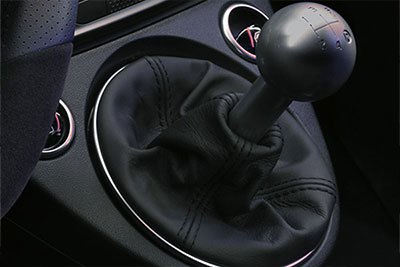 Connectivity
The Competizione comes as standard with a 5" Uconnect touchscreen infotainment system with Bluetooth as standard. You also get a powerful speaker system, or you can upgrade to a 480-watt Beats stereo.
595 Competizione Colours
CIRCUIT GREY
ABARTH RED
CAMPOVOLO GREY
GARA WHITE
MODENA YELLOW
PODIUM BLUE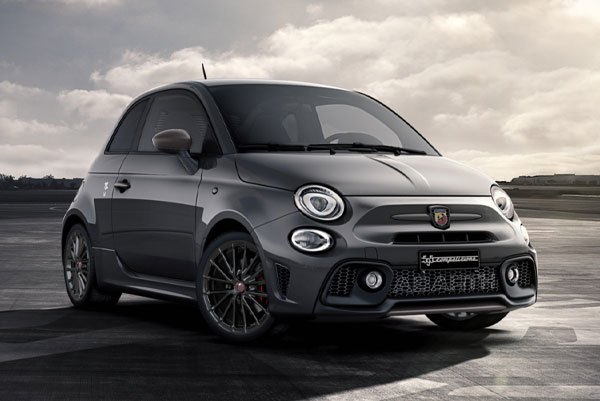 RECORD GREY
SCORPIONE BLACK
TROFEO GREY
GHIACCIO WHITE
CIRCUIT GREY / CAMPOVOLO GREY
CIRCUIT GREY / ROSSO ABARTH
SCORPIONE BLACK / GARA WHITE
SCORPIONE BLACK / PODIUM BLUE
SCORPIONE BLACK / RECORD GREY
For the trim levels, colours and more detailed info, download or order the 595 Competizione brochure
Get a Brochure
Why not take a test drive in the 595 Competizione? It is the best way to know if the car is for you.
Book a Test Drive
If you need to know more info about the 595 Competizione - Just ask, we are here to help.
Ask a Question
View all of our 595 Competizione offers by clicking the link below.
Latest Offers
The boisterous noise adds to the excitement, creating some real theatre when you rev the little Abarth to the red line. It's also quite vocal as it descends through the revs too, popping and banging like a rally car with anti-lag
EVO

The Abarth bursts forward with an enthusiasm that makes every gap in the traffic look like an opportunity
Car Magazine
New abarth 595 competizione
Call us Today
01934 813700
Contact us