Sporty, powerful and hearty design

0-62mph in 7.8 seconds

145bhp and 206Nm of torque;

Comes loaded with technology

Available with a manual or automatic gearbox

Everyday practicality with a spacious boot
595 Latest Offers
Abarth 595
The Abarth 595 is where your journey begins. This is the entry car to the Abarth brand, but there really is nothing standard about the 595. It is powered by a state-of-the-art 1.4-litre T-JET engine, with 145bhp and 206Nm of torque. That power is sent to the front wheels through a slick, short-shifting 5-speed manual gearbox or a 5-speed robotised sequential automatic. To put those performance figures into real-world wording, the Abarth 595 goes like stink and loves to be driven hard. And you'll be rewarded for doing so too, with responsive, finely tuned handling and big brakes to back you up. 0-62 mph takes just 7.8 seconds, and you'll love every second it takes. And when you do slow down to admire the view, the 595 transforms into a comfortable and practical hatchback. Are you ready for it?
595 Features
Stunning
The Abarth 595 has recently been updated from the Abarth 500. The 595 has a new front bumper with larger air intakes and a new rear bumper. It also wears new, lighter 17" alloys, and it looks bang up to date thanks to this.
Power
The Abarth 595 is powered by a 1.4-litre T-JET engine. This turbocharged four-cylinder unit produces 145bhp at 5,500rpm and 206Nm of torque at 3,000rpm. The result? Sensational performance in any gear.
Ultimate control
The Abarth 595 has a state-of-the-art suspension, consisting of a front MacPherson suspension with anti-roll bar and a rear torsion beam with anti-roll bar. Performance shocks and a lowered suspension keep the 595 planted.
Performance
0-62 mph in 7.8 seconds. A top speed of 130 mph. Short gearing. 206Nm of torque from just 3,000rpm. What does all of this mean? Quite simply, that the Abarth 595 is a fast pocket rocket, with epic performance.
Interior
More Features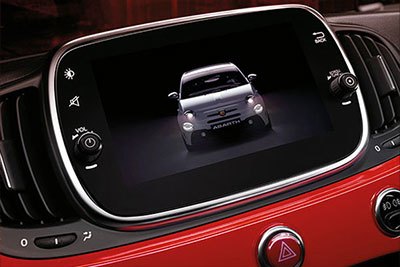 Sound
The Abarth 595 sounds fantastic. The dual-exit exhaust system has been designed to be 'relatively' sedate at slow speeds, but as soon as you floor the throttle, it opens up to deliver a sound akin to a sound of angry, deep-voiced bees.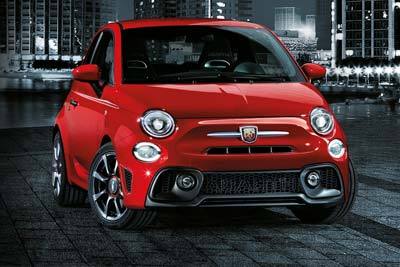 Driver-focused
With its figure-hugging sports seats and lower dash-mounted gear knob, and its perfectly placed pedals and conveniently placed controls, the Abarth 595 welcomes all drivers into its cabin. It's a wonderful place to be.
Creature comforts
The Abarth 595 gets air conditioning, Bluetooth, a Uconnect 5-inch touchscreen infotainment system and DAB as standard. You can also add a larger, 7-inch infotainment system which gets satellite navigation with live traffic.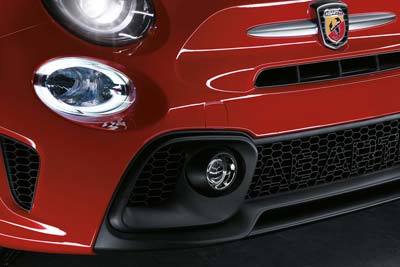 Everyday practicality
Will your Abarth 595 be a daily driver? No problem. The 595 has a 185-litre boot expanding to 550-litres with the rear seats folded, and thanks to its low weight, you could see up to 43.4 mpg combined (if you take it slow). Not bad.
595 Colours
CIRCUIT GREY
ABARTH RED
CAMPOVOLO GREY
GARA WHITE
MODENA YELLOW
PODIUM BLUE
RECORD GREY
SCORPIONE BLACK
TROFEO GREY
GHIACCIO WHITE
For the trim levels, colours and more detailed info, download or order the 595 brochure
Get a Brochure
Why not take a test drive in the 595? It is the best way to know if the car is for you.
Book a Test Drive
If you need to know more info about the 595 - Just ask, we are here to help.
Ask a Question
View all of our 595 offers by clicking the link below.
Latest Offers

Abarth has hit this nail squarely on the head. If you want the most stylish and funky warm hatch on the market, this is unquestionably it
RAC

The meaty steering, and indeed meaty, flat-bottom steering wheel itself, make for precise cornering and a solid feel to the input and feedback
Car Advice
New Abarth 595
Call us Today
01934 813700
Contact us